Mini Bus Rental NYC
Looking for a mini bus or charter bus to have an enjoyable ride and exceptional experience while traveling through New York City? Our charter bus company has the best transportation solution for every one of our customers. Don't stress anymore! If you need the right vehicle with the perfect size for your group travel, in our extensive fleet, you will find various options that can adjust to your transportation needs. Enjoy a unique experience and a VIP treatment with your friends, family, or partners on our cars equipped with luxury amenities and a top-level. Our objective is to fulfill all your expectations so that we work to guarantee the best minibus rental service. Get in touch with us today and rent an NYC charter bus or request an instant quote.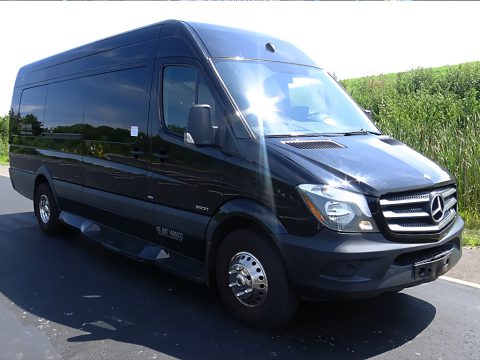 14 passenger van
Do you need minibus rental options? Travel comfortably on this vehicle with your guests on events like weddings or field trips.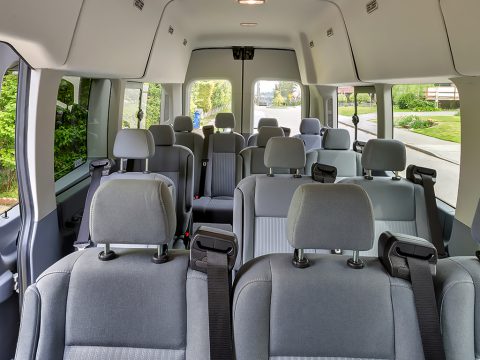 14 passenger van
This vehicle is equipped with ample baggage storage, a powerful sound system, and comfy seats for a pleasant ride.
14 passenger van
This mini charter bus is an excellent option for tourist groups or even if you need to go to the airport for your flight.
Our mini buses and charter buses in New York
If you are going to start planning an event, celebration, or travel in New York City or out of town, let us give you a hand! Whether birthday parties, weddings, bachelor or bachelorette parties, field trips, or new year's eve vacations, our mini buses are a great choice for any occasion. We assure you will stay entertained and comfortable and enjoy on the road with luxury amenities like wifi, power outlets, reclining seats, an outstanding PA system, flat-screen TVs, air conditioning, panoramic and tinted windows, luggage bays, and even some vehicles include wet bars and coolers, and onboard restrooms. Our charter and mini bus rental in New York offer a large selection of vehicles for small groups, medium-sized groups, and large groups, so check our website and choose a suitable vehicle for your group transportation.
What are your travel requirements? If you are preparing a long-distance trip with sports teams or your students, we recommend you a coach bus that has the capacity to transport larger groups and can provide extreme comfort and safe for all the passengers. Also, we have other alternatives for corporate events or business trips, such as a charter bus, Sprinter Van, SUV, shuttle bus, or mini bus. But, for a big celebration on a special day, you can also find party buses and limousines to have a fun and entertainment experience like a club or bar. Our mini bus and charter bus company are the best in efficiency, safety, and trustworthiness in New York City and the Tri-State area. We have the best mini bus rental in New York with the most affordable prices that impress you.
Know New York with our charter bus and mini bus rental
Travel around of busy streets of the Big Apple and waste time looking for parking spaces or alternative routes to arrive at your destination, it will not be a problem for you again. Our mini bus rental in New York City and other places in the Tri-State area includes a professional driver at the wheel to take you safely, on time, and stress-free to your venue. Whether a celebration, corporate meetings, work commitments, airport transfers, or sightseeing to know the most popular places in the town, we have a suitable vehicle to provide you entertainment, comfort, and a pleasant trip. Call us and ask for our special packages and pricing for our charter bus and mini bus rental services in New York.
We are committed to accompanying you every step during your journey in New York City with the best minibus rental! If you organize a trip to NYC, we have a travel agent team to help you with the itinerary and preparations and even give you some recommendations for places you must visit. Don't worry about the price, we adjust your budget, and we have many options and packages for any group and event. Our mini bus and charter bus rental services are available in New York City and other cities like New Jersey, Boston, and Philadelphia 24 hours a day, 7 days a week. Our mini bus and charter bus company are ready to provide you with an unforgettable experience, a lot of fun and entertainment, and an enjoyable ride at your next event.
12 passenger party van
Our charter bus company has luxury vehicle options for you, such as our amazing party van.
12 passenger party van
Amenities like the top-tier audio system, HDTV, and LED lighting will give you unique moments.
12 passenger party van
Enjoy your favorite drinks with a wet bar and an experienced chauffeur for the group's safety.